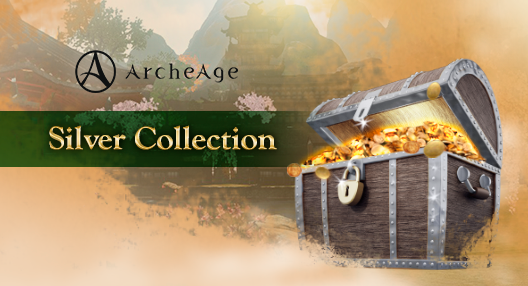 Get started in ArcheAge with the Ishvaran Poet's Silver Collection! This package has everything you need to get started, including 30 days of patron and goods to get your gear upgraded!
30 Days of Patron
Get account-wide access to tons of awesome benefits, including increased Labor gains, bonus experience, the ability to own land & more.
1000 Credits
Purchase incredible items – including mounts, pets, costumes & more – from the ArcheAge in-game marketplace.
150 Bound Tax Certificates
Keep your property by using these to pay to maintain your houses, gardens, and farms.
1 Expansion Scroll
Expand your inventory, one scroll at a time!
20 Radiant Infusion Supply Kit
Synthesize your Hiram gear to be the best it can be with these infusions.
1 Loyalty Token 50-Pack
Grab some valuable and rare items with this pack of alternative currency!
1 Resplendent Solar Temper
You want your weapon to be stronger? You can temper it with the help of the Resplendent Solar Temper!
1 Resplendent Lunar Temper
Increasing the defense of your armor is not an issue anymore with the Resplendent Lunar Temper!
1 Wrapped Serendipity Stone
Enhance your costumes or undergarments by rerolling one of their stats.
1 Bound Resplendent Weapon Tempering Charm
Double your chances when you temper your weapon with this Resplendent Weapon Tempering Charm!
1 Bound Resplendent Armor Tempering Charm
Double your chances when you temper your armor with this Resplendent Armor Tempering Charm!
Digital Downloads Terms and Conditions
This game is a digital download of software only; Trion will not send you anything. This software will need to be downloaded to your computer, but no physical box, discs or other materials will be provided to you. You must download the game's files to each machine on which you wish to play this game. The download and use of this game is subject to the End User License Agreement, Terms of Use , and Privacy Policy.
This is an Internet-only game which requires players to connect to Trion servers via their own Internet connections. Players are responsible for their own Internet connection service and all Internet-related fees.
Trion Worlds does not ensure continuous or error-free access, use, or availability of any game content, feature, gameplay, or server and may change, modify, disable, suspend, or remove any such content, feature, gameplay, or server at its sole discretion.